Residential Concrete Experts
Trust Local Top-Rated Pros with Your Concrete Project
Trifecta Contracting Solutions LLC was established in 2018 and has over 10 years of combined residential and commercial concrete contracting experience. At Trifecta we believe that honesty, integrity, and client communication are crucial elements to providing excellent service. By taking the proper steps and laying a foundation of success, dedication, and courtesy we can ensure that our product is consistent, our team efficient, and our homeowners are satisfied.
These core values have made Trifecta Contracting Solutions LLC a trusted resource for homeowners and business owners throughout Kansas and Missouri. At Trifecta it's our mission to provide every homeowner with quick service, a quality product, at a quality price. Our talented and experienced team of residential concrete experts have a passion for perfection and believe in the core values that make Trifecta one of Kansas City's top rated residential concrete contractors.
Every residential concrete project that we are entrusted with is executed with the same level of precision, passion, and expertise. From initial project conception, design, and walkthrough to the finished product, you can be sure that one of our knowledgeable team members will be there to answer questions, provide status updates and guarantee that the core values and standards of Trifecta Contracting are being upheld.
We Specializes in Residential Concrete Installation, Repair & Replacement
Trifecta Contracting has the knowledge and experience to handle many different residential concrete construction projects from large installations to small tear outs and repair jobs.
If you are looking to add functionality, beauty, and value to your home Trifecta Contracting can help you accomplish the desired result. Whether it's a new driveway, custom patio or walkway; we are a full-service concrete construction company with the capacity to oversee the entire project from start to finish including the tear out and cleanup. Trifecta Contracting Solutions LLC is your one stop shop for residential concrete construction.
We specialize in but are not limited to the following concrete installation, replacement, and repair projects.
Residential Driveway Installation, Repair, & Replacement
A new driveway installation or replacement is one of the best ways to improve the look and feel of your home, as well as increasing the overall value of your investment. If your driveway is showing signs of deterioration like cracking or sinking, it could be a sign that your driveway ready to be replaced.
New driveway installs or replacements are serious projects that should be trusted to a licensed, bonded, and insured contractor.
Don't wait, if your aging driveway is starting to fail, or you just want an upgrade, call the pros at Trifecta Contracting Solutions LLC.
Concrete Steps & Walkway Installation, Repair, & Replacement
A new set of stairs or a beautifully stamped or textured walkway will also increase the value and curb appeal of your home as well as increasing the functionality and accessibility of your home. The addition of a new walkway or set of concrete stairs can be the perfect accent to your home's patio, porch, garden, pool, or recreational area.
Make your outdoor living space unique and set your home apart with Trifecta Contracting Solutions LLC.
Stamped Concrete Patio Installation, Repair, & Replacement
Make your outdoor living space the talk of the neighborhood with the help of Trifecta Contracting. Our creative team of experts work with every homeowner to ensure that their vision for a one of a kind patio is achieved. Our talented patio installation team has the knowledge and experience to execute difficult builds and the ability to implement unique concrete stamping techniques that are sure to make your patio stand out from the crowd.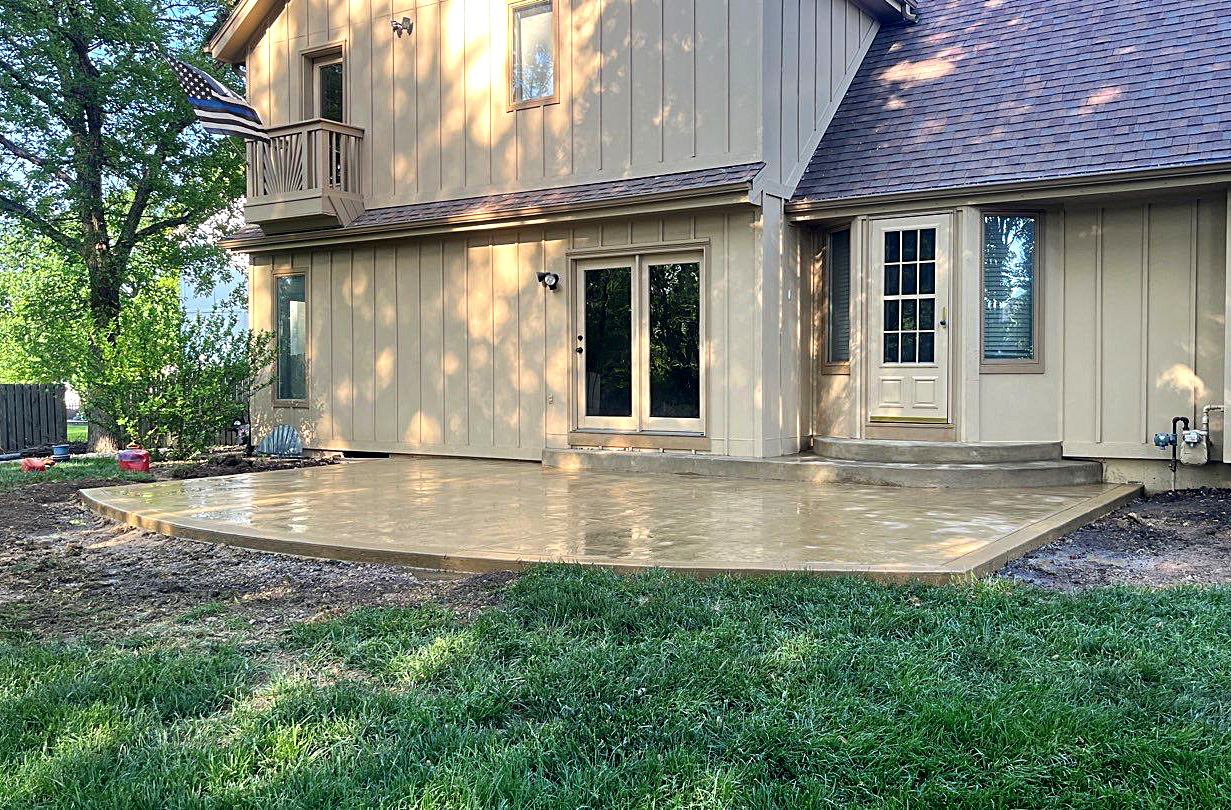 Garage Floor Installation, Repair, & Replacement
Like driveways, concrete garage flooring needs to be durable and able to stand up to years of abuse as well as the weight of multiple vehicles. A garage flooring install, replacement, or repair should always be trusted to a licensed, bonded, and insured concrete contractor so that you have the peace of mind that your project has been completed correctly.
Every Homeowner Deserves the Five-Star Treatment
Be sure to check out our Concrete Project Gallery for inspiration and examples of our work.
Licensed | Bonded | Insured
Let's Get Started… Request a Free Concrete Consultation with Top- Rated Kansas and Missouri Pros. Schedule with Trifecta Contracting Today!
If you're on the fence about who to trust with your homes concrete project or repair, schedule a free quote or project walkthrough with one of our Trifecta team members. We are grateful for the opportunity to earn your business and look forward to learning more about your residential concrete project or repair To schedule a free quote or project walkthrough please call our office at 816-775-2777 or Schedule Online
Backyard Patios
Let us create that beautiful patio you've always wanted, or redo that old broken slab of concrete causing an eye sore.
Walkways & Front Stoops
A lot of time we see front stoops start to sink due to settling, we can repair or tear out and completely redo your front entry way.
Sidewalks
Trifecta can pour the sidewalks for a new housing development or add in sidewalks where necessary whether residential or commercial.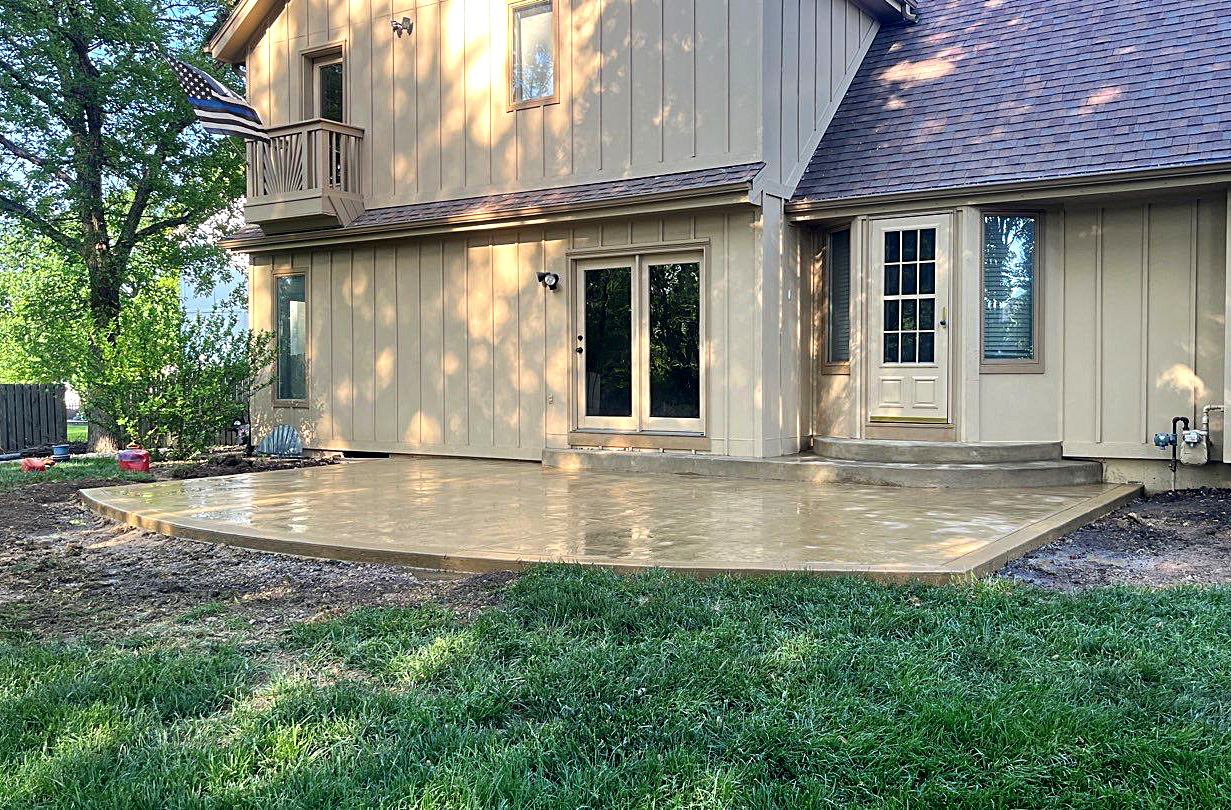 Stamped Concrete
Stamped Concrete can be a great way to liven up that outdoor patio with a variety of different patterns to choose from.