Residential Driveway Installation, Replacement, & Repair
Your Kansas & Missouri Driveway Installation Specialists
A residential driveway installation is a major home improvement project that adds value, functionality, and curb appeal to your investment. A new driveway installation is the type of home improvement project that can be expensive, requires planning and should always be trusted to a licensed, bonded, and insured concrete construction company.
Trifecta Contracting Solutions LLC has the knowledge and experience to make your new residential driveway installation simple. At Trifecta we own and operate all our own heavy equipment, so we can make the tear out, the removal of debris, and the final pouring of concrete fast and easy. Our expert driveway installation team will work with you from project quote to project completion. At Trifecta Contracting we take the proper steps to ensure that every residential driveway we install meets our standard for excellence and durability.
It Starts with a Solid Foundation
Laying a strong foundation is the key to a successful driveway installation or replacement. A driveway built with prop drainage and a reinforced mesh or rebar base will stand up to years of punishment from routine use, like the parking of vehicles, and inclement weather.
The fluctuation in temperature during hot summer days and long freezing winters can cause a concrete driveway to expand and retract as the slab warms and cools throughout the years temperature change. Since Kansas and Missouri both experience their share of extreme seasonal weather, we take extra care when laying a foundation for an installation or replacement job to ensure the longevity and durability of every driveway that Trifecta has the pleasure of working on. We want to make sure your investment is well secured and durable to last.
We Use Only the Highest Quality Building Materials
At Trifecta Contracting we use only the best building materials the industry has to offer. By working with the best concrete construction materials and equipment we can ensure every job is done right, meeting our high standards for quality, craftsmanship, and durability. Every homeowner deserves peace of mind that their new driveway was built to last.
When Should Homeowners Consider Replacing Their Aging or Damaged Driveway?
The average lifespan of a residential driveway weighs heavily on how it was installed and ranges anywhere from 25 to 30 years depending on and installation methods used. Other things like climate and daily use can factor into the longevity of a residential driveway.
The most common signs or symptoms of a failing driveway are cracking, potholes, sinking or sloping, as well as frequent or re-ocurring drainage issues. These signs of deterioration are caused by climate and weather conditions. Over time heavy rains and freezing temperatures will cause a driveway to crack, split, or sink. The age of a driveway plays a role in whether it's time to replace, as mentioned before if your driveway is reaching the 25- or 30-year mark it's time to start planning or budgeting for a replacement. We take pride in providing a quality product at a quality price.
If your driveway is getting older, looking worse for wear, and showing the common signs of breakdown, call us today for a free licensed driveway inspection. Another reason we see homeowners requesting a driveway replacement is because it was not properly installed. When a contractor doesn't take the proper steps to lay a solid foundation or use the best construction materials and building techniques the results are a product that won't stand up to years of use and abuse. Don't make a costly mistake; hire a licensed, bonded, and insured concrete specialist.
What Should Homeowners Expect When Replacing or Repairing a Residential Driveway?
If you are planning on installing a new driveway, replacing one that's aging, or want to stretch the life of your sinking or cracking driveway. Here are a few things that you need to consider and prepare for before when planning your driveway repair or replacement:
Project Cost – Every residential driveway is different whether it's a new installation, replacement, or a repair job, the cost will vary. Schedule a free consultation and let one of our professionals come out, evaluate, and estimate the cost for your driveway concrete project.
Project Time Frame – Typically a new driveway installation or replacement can take anywhere from Three-Five days depending on the size of the driveway. Repairs can typically be completed within a one-two days if conditions are right.
Concrete Cure Time – Install, replacement, and repair will need the proper time for the concrete to set and cure. The concrete curing process usually takes around 7 days, so we recommend once the project is completed, you avoid walking or parking vehicles on your freshly installed or repaired driveway for that time frame.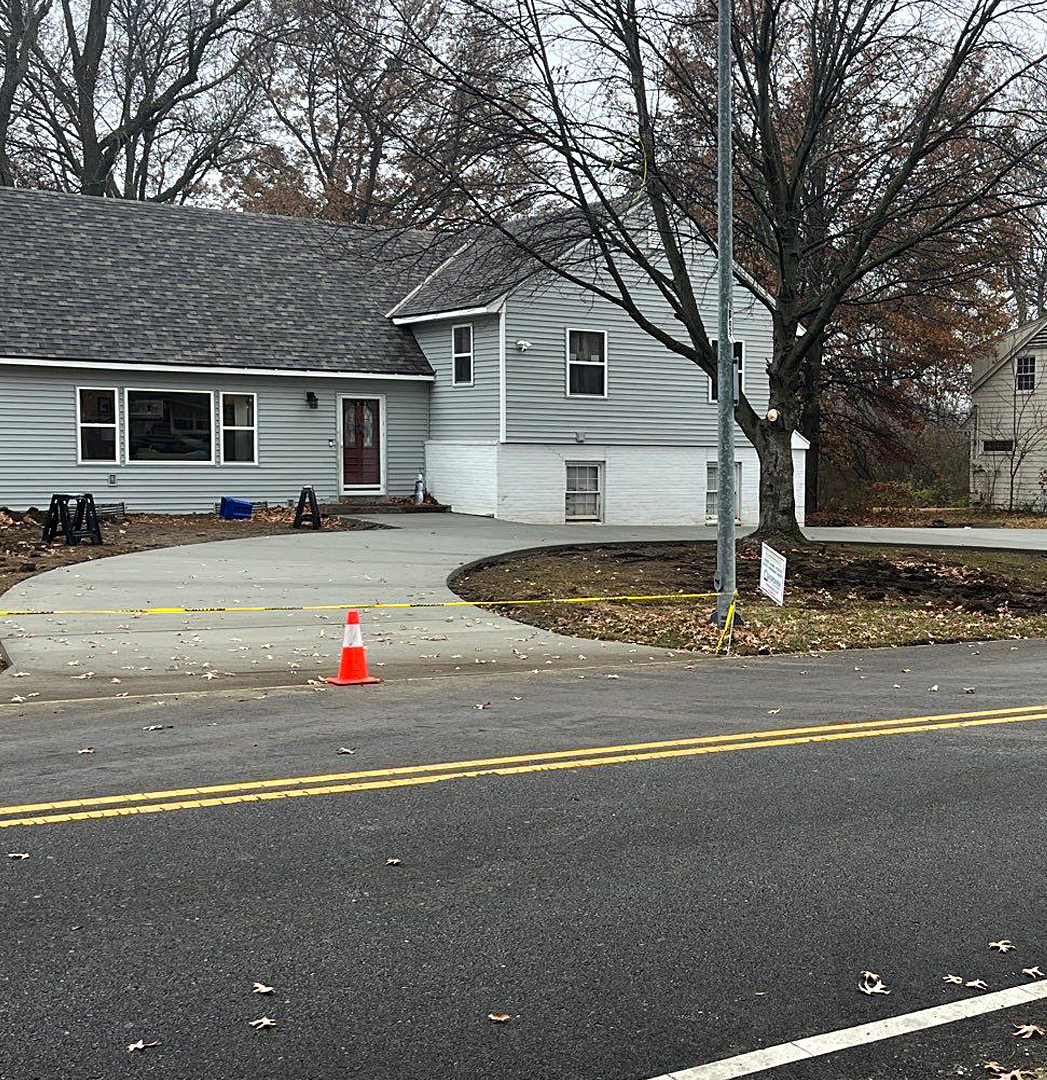 Request a Free Concrete Consultation with the Top-Rated Kansas and Missouri Pros
Whether your home needs a facelift, your making room for an additional vehicle or you want a safe area for the kids to play, Trifecta Contracting will install your new driveway quickly, and correctly with results that will last and stand up to years of household use, and abuse from the elements. We stand by the quality of our work, and we are honored for the opportunity to earn your business.
Every Homeowner Deserves the Five-Star Treatment
Be sure to check out our Concrete Project Gallery for inspiration and examples of our work.
Licensed | Bonded | Insured
If you're on the fence about who to trust with your homes concrete project or repair, schedule a free quote or project walkthrough with one of our Trifecta team members. We are grateful for the opportunity to earn your business and look forward to learning more about your residential concrete project or repair.
Let's Get Started… Schedule with Trifecta Contracting Today!
To schedule a free quote or project walkthrough please call our office at 816-775-2777 or Schedule Online
Backyard Patios
Let us create that beautiful patio you've always wanted, or redo that old broken slab of concrete causing an eye sore.
Walkways & Front Stoops
A lot of time we see front stoops start to sink due to settling, we can repair or tear out and completely redo your front entry way.
Sidewalks
Trifecta can pour the sidewalks for a new housing development or add in sidewalks where necessary whether residential or commercial.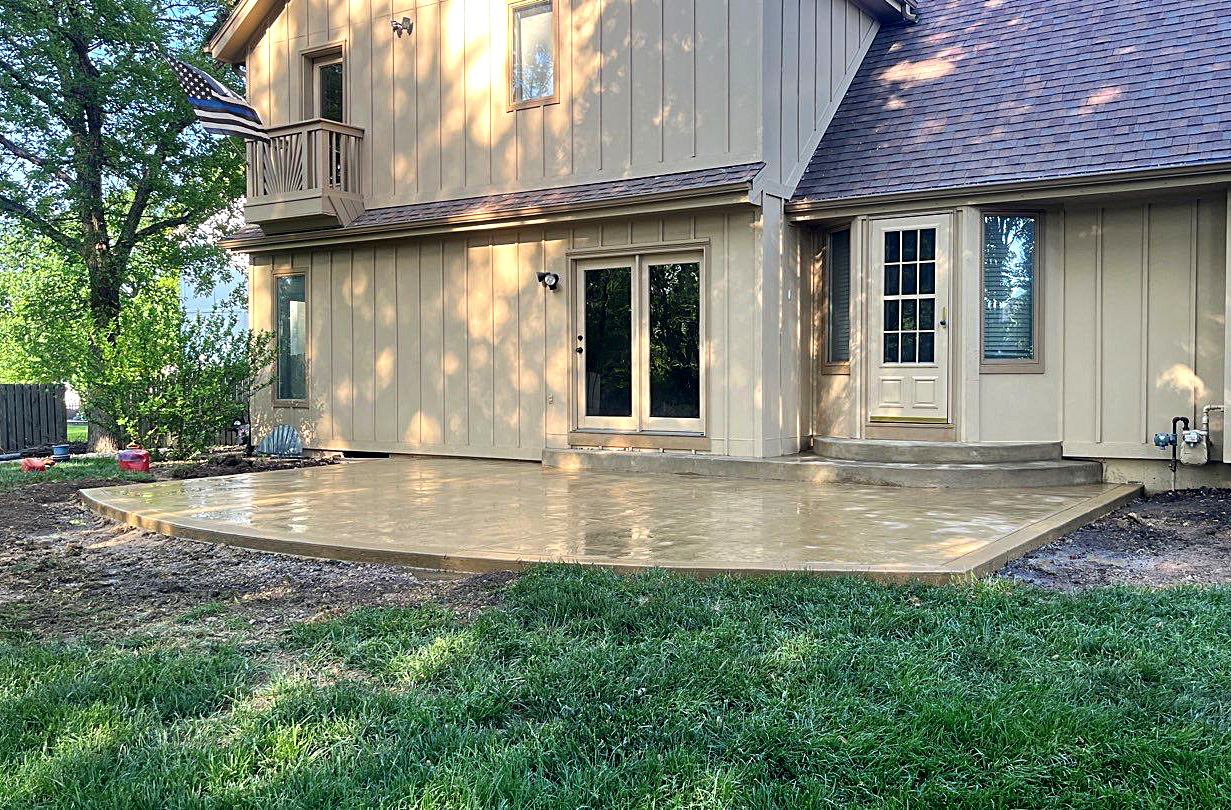 Stamped Concrete
Stamped Concrete can be a great way to liven up that outdoor patio with a variety of different patterns to choose from.